I came across a complete index of Freer baptisms in Quorndon, Leicestershire in my quest to find more about William's parents and siblings. Little did I know it would lead me to discover two new Australian 4th cousins descended from a Freer who emigrated there in 1852.
Thomas and Mary Freer had four sons and three daughters in Quorndon between 1800-1827. All of them were baptised in St. Bartholomew's church including my 3rd-great grandfather John (born 1802) and his younger brother Frederick (born 1804). Incidentally, this Frederick is easily confused with the son of Edward Freer and Ann Cunningham, baptised in the same church in 1807.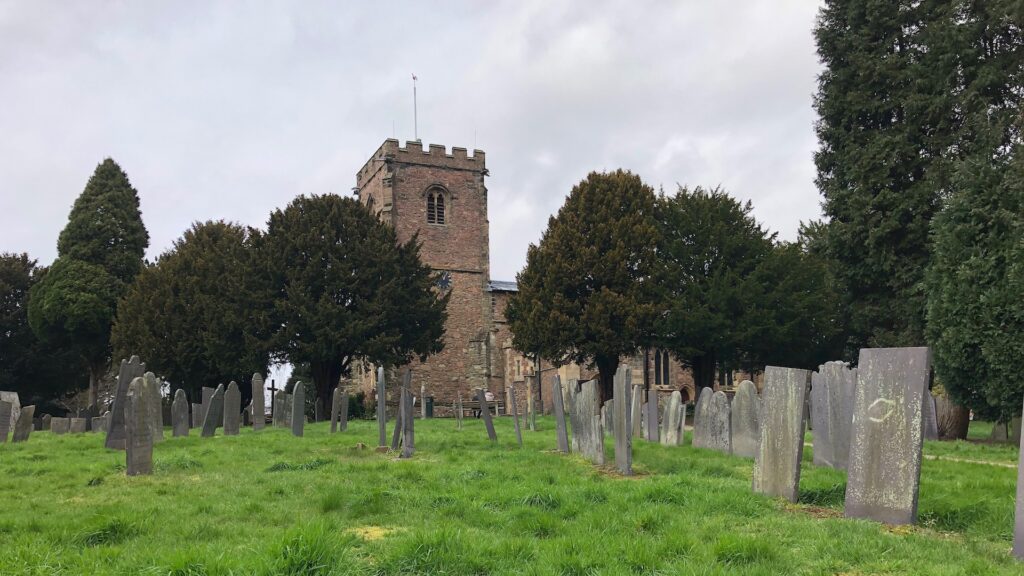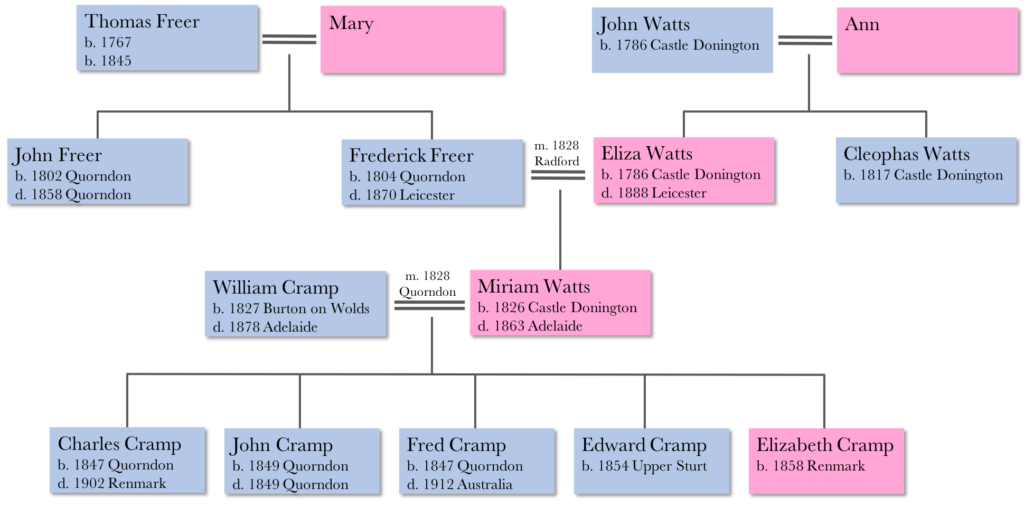 Frederick was baptised 5 August 1804 and, unusually, the entry also recorded his birth on 19 July 1804.
We don't know too much about him until, in 1826, he tries to marry Eliza Watts. Eliza was born 1809 in Castle Donington about 12 miles to the north west of Quorndon. Eliza was only 17 but the Banns were 'forbid by the Father of Eliza' John in May 1826 – so they couldn't marry.

Eliza's & Frederick's daughter Miriam was born illegitimately in late 1826 or early 1827 (we know from the 1841 & 1851 censuses that she was born between 7 Jun 1826 and 30 Mar 1827). Assuming it was a full term it seems very likely this marriage attempt was as a result of her pregnancy.
Unmarried, they hatched a plot to marry two years after their first attempt and were wed in Radford, Nottingham in May 1828. Both claimed to be 'of this parish' and so either they lied to the vicar or moved there in order to establish residence. How and if they got away without gaining her father's permission is not known – I haven't yet tracked down the Banns.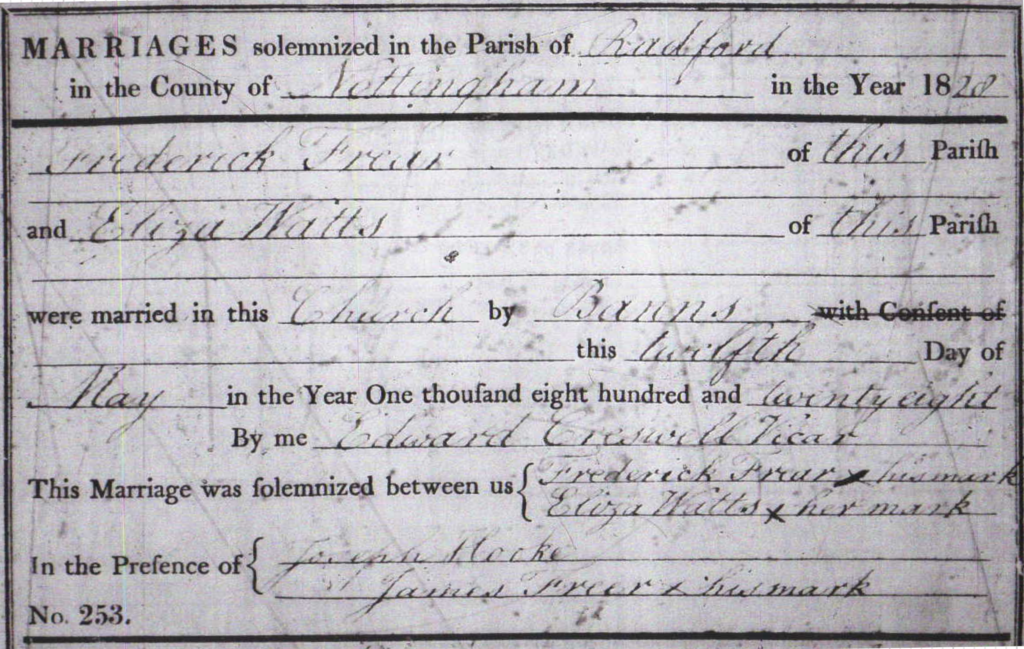 A possibility, though, is that Eliza's parents John & Ann Watts raised Miriam because in 1841 she was living with them in Chapel Street (now Meeting Street), whilst Eliza's & Frederick's remaining six children lived a five minute walk away in an area bordered by Sarson Street, Castledine Street, the top Barrow Road and part of Loughborough Road.
Miriam's cousin Pharoah (by Eliza's brother Cleophas Watts) was also staying that night with the grandparents – perhaps some form of 19th century sleepover? The more likely scenario is that John & Ann took on her upkeep to save embarrassment to the family.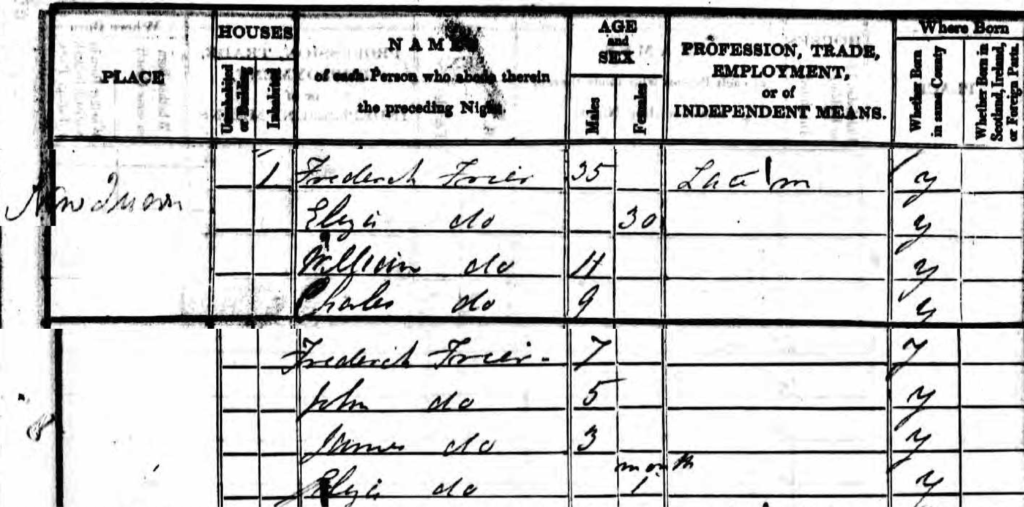 Miriam was christened on Valentine's Day 1836, aged 8-9, at the same service as her cousin Pharoah Watts. It's these documents that misled me as to Miriam's surname because the natural assumption is to continue the search for Miriam Freer. Unlike on birth certificates where the surname is declared, we tend to assume that a baptised child's surname is the same as the parents – but Miriam's was not – she was definitely Miriam Watts and her father was definitely Frederick Freer.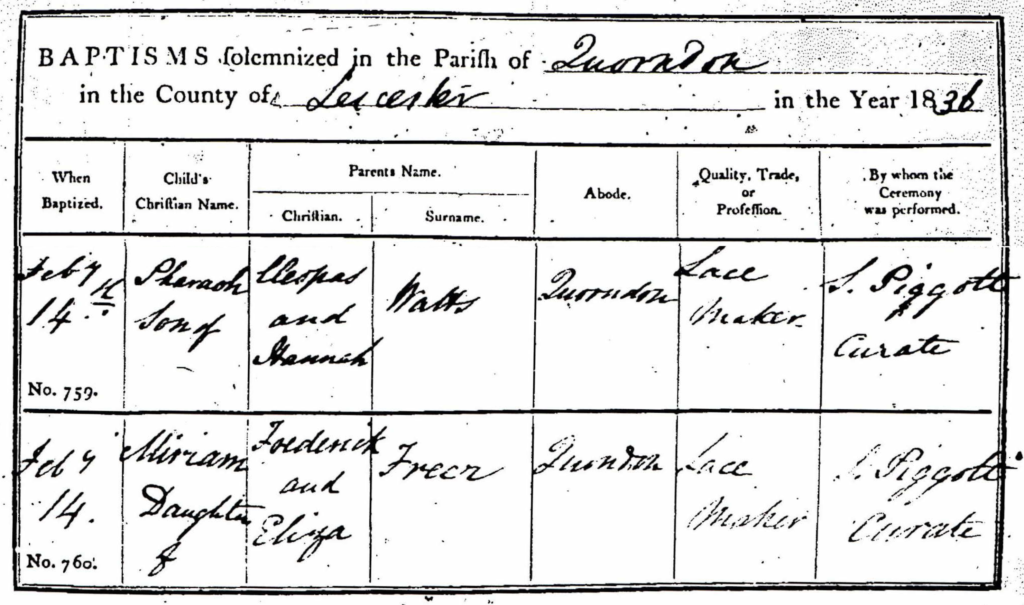 The next record of Miriam is when she marries one William Cramp (an agricultural labourer also living in Quorndon but born in Burton on Wolds, about 5 miles to the north east) in December 1846. Here is definitive proof that Frederick was her father but interestingly, he didn't witness the document – this fell to her brother William Freer. Her father must have consented though as she is recorded as a minor (under 21) – she was in fact nineteen.

They had three children in Quorndon – Charles, John and Fred – though John died shortly after being born. While Miriam was pregnant with Fred, they were living on Stoop Lane (which then also included what is now School Lane and part of Soar Road) – the same street as her 1st cousin Ann Freer – John's eldest daughter.

For unknown reasons, William, Miriam and their two sons now upped sticks and emigrated to Adelaide, South Australia in 1852. The research from here was taken up years ago by my newly found 4th-cousins Maxine Swan & Deb Tiziani – both descended from Miriam and William. Deb has written a blog detailing the challenges she faced trying to track down the same family.
The remaining abridged story is rather sad – it seems they had two more children in Adelaide – Edward John (born 1854) & Elizabeth Ann (born 1858) but probably separated some years after settling there. Miriam died alone in Adelaide Destitute Asylum (established by the authorities for those without money, including settlers without relatives) aged only 37 and was buried in an unmarked grave in 1863.
Citations
Baptisms in the Parish of Quorndon, Leicestershire. Entry for Frederick Freer, 5 Aug 1804
Marriage Banns in the Parish of Quorndon, Leicestershire. Entry for Frederick Freer & Eliza Watts, 14-28 May 1826
Marriages in the Parish of Radford, Nottinghamshire. Entry for Frederick Freer and Eliza Watts, 28 May 1828
Baptisms in the Parish of Quorndon, Leicestershire. Entry for Miriam Watts, 14 Feb 1836
Public Record Office, Census Returns of England & Wales, Quorndon, Leicestershire – 1841. Entry for Frederick Freer household
Public Record Office, Census Returns of England & Wales, Quorndon, Leicestershire – 1841. Entry for John Watts household
Marriages in the Parish of Quorndon, Leicestershire. Entry for William Cramp and Miriam Watts, 15 Dec 1846
Public Record Office, Census Returns of England & Wales, Leicester, Leicestershire – 1851. Entry for Frederick Freer household
Public Record Office, Census Returns of England & Wales, Leicester, Leicestershire – 1851. Entry for John Watts household
Public Record Office, Census Returns of England & Wales, Quorndon, Leicestershire – 1851. Entry for William Cramp household