My great great grandfather, William Freer, was a kennel man in the Leicestershire village of Quorndon in the 1850's.
He was born in Quorndon in 1830 and likely stayed there, until marrying, with his parents who, in 1841, were living in Barrow Gate (now Station Road).
As I walked past the Monk public house on Station Road (known then as Barrow Gate) I wondered whether his parents John & Frances frequented it – but actually it was cottages at the time and their nearest public house would have been the Blue Ball (where Bradleys grocers is now) – but even if they didn't, they must surely have often walked past. By 1851, John & Frances had moved to Wood Street (now Meeting Street) on the south west side of the village.
William, a servant at the time, married Mary Ann Elliott in 1849 and both were still living in White Street in the parish of All Saints, Leicester when their first child, Frances Emily, was born six weeks later! Mary was born in 1830 at Thurlaston, a parish about 15 miles to the south of Quorndon. William claimed he was at least 21 (full) and Mary 19 (under) when they married – contradicting all the other records we have since then.
Their next 5 children (William and Mary had 14 children altogether) were all born in Quorndon too and from 1851-1859 he was listed as a dog feeder. I suspect this was low ranking within the kennel job hierarchy and he would have worked at Quorndon Hall stables and kennels a few hundred yards to the north west of Barrow Gate. This photograph shows a kennel man (I'm not pretending it's my ancestor!) working at one of the Quorndon beehive huts where the dogs dried out after a day's work.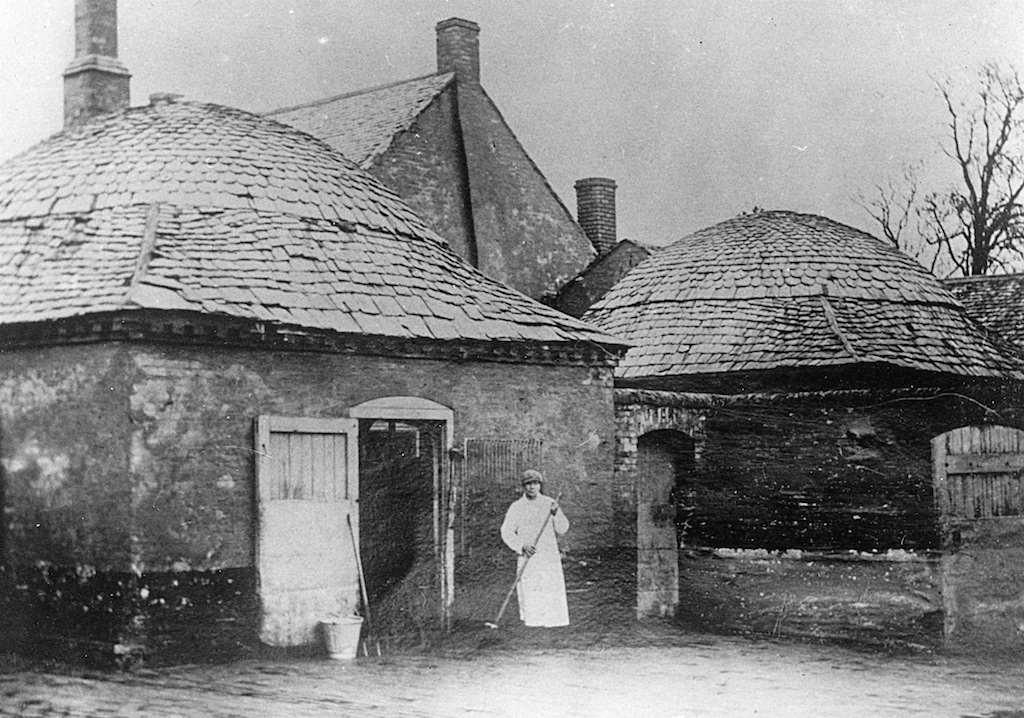 Some time between July 1859 and April 1861 a substantial part of the hunt was sold to the Wynnstay Estate in Ruabon, Denbighshire – enough that William and his family moved there with the hounds. William was 'Kennel Man' there until he died in 1887, though Mary Ann and her children remained.
My great grandmother, Clara, was the 11th born in the family and spent almost all her life in Pen-y-lan – other than a couple of unexplained but important interludes to Basford, Nottingham…